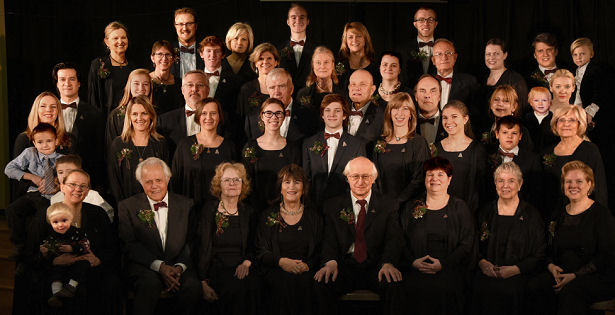 Ready for our annual Advent concert, December 2014
The New York Latvian Concert Choir, Ņujorkas latviešu koris, is a non-professional choral group based in Yonkers, New York, drawing its membership from the tri-state area. While our members are primarily of Baltic background, the calling of the Latvian musical spirit has beckoned others to join us as well!
Founded in 1975, our choir is devoted to performing masterpieces of Latvian and other Baltic choral, operatic and symphonic literature, and traditional folk music. Our choir also regularly commissions and premiers new works.
Our choir first traveled to Latvia during the Soviet occupation. Since Baltic independence we have returned to Latvia numerous times to perform and to record. We also regularly participate in the Latvian "Dziesmu Svētki", or Song Festivals, held in Latvia and abroad.
The 2019-2020 season marks our 44th. We look forward to seeing you at our concerts!
Updated: September, 2019
---
The New York Latvian Concert Choir, Inc. is a non-profit organization conducting a yearly workshop and performance program emphasizing Latvian cultural, linguistic, and ethnic heritage. Our activities are supported in part by the New York State Council on the Arts. For more information on our concert schedule, recordings, or to join, Email us at: contact@nylatvianconcertchoir.org