Bruno Skulte Memorial Concert—July, 2001
Riga, Latvia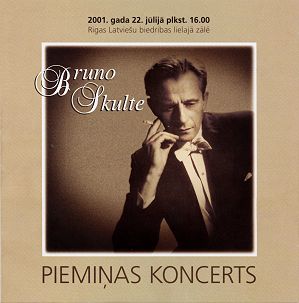 The concert programme cover from
our July 22, 2001 concert in Latvia
In July 2001, most of our choir members headed to Riga, during the city's year-long 800th anniversary. Along with the award-winning youth choir "Balsis", the choir class from Riga's Music School No. 4, solists, and the Latvian National Symphony Orchestra, we performed works by Bruno Skulte at Riga's Latvian Association's (Rigas Latviesu Biedribas) Great Hall.
We also recorded the same works performed at the concert—the compact disk is now available. Our thanks to our partners and friends and most of all to our audience who helped make our concert a success!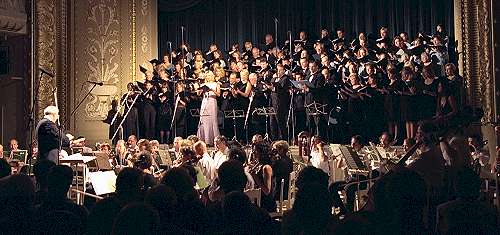 NYLCC in concert at RLB in Latvia with choir Balsis, Riga's Music School 4. choir, solists, and the Latvian National Symphony Orchestra
Many members of our choir also participated in the 2001 Dziesmu Svetku (Folk Song and Dance Festival) gala/closing concert.
A translation of the program follows.
---
Bruno Skulte
Memorial Concert
Sunday, July 22nd, 2001
Rigas Latviesu Biedribas (Riga's Latvian Association's)
Great Hall Riga, Latvia
Bruno Skulte (born 1905 in Russia, died May 19, 1976 in New York) received a good musical education in Latvia. He grew up in his mother's and father's love of music and was encouraged and schooled in music; in 1931 he entered Jazeps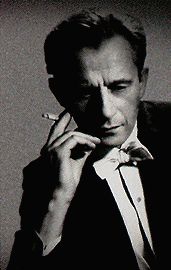 Vitols' composition class in the Latvian Conservatory. Later, he studied conducting in Janis Medins' class. He graduated in 1937. Following was work as an organist, and fulfilling the responsibilities of program director for Latvian Radio. He proved himself a capable and knowledgeable conductor at the podium for Latvian Radio and the Liepaja Symphony Orchestra. Skulte had a rare opportunity to hone his skills, studying conducting in Germany with the Berlin State Opera director, Leo Blech, and in Salzburg, Austria with the notable conductor Clemens Kraus. Skulte could already be counted among the musical elite. After emigrating from Latvia in the fall of 1944, Bruno Skulte directed the Berlin Orchestra, and later led the Oldenburg Latvian Opera. In 1949, the New York Latvian Church invited the composer to the United States, where he spent the remainder of his career as their organist. Bruno Skulte was deeply ensconced in Latvian society and life, and was the most beloved and capable musician in exile. The seriousness of the genres in his creative works testify to this: "Viklacu mantiniece", symphonic works, cantatas, string quartets, and approximately 100 solo and choir songs. That is a great mass of work within Latvian musical culture, which everyone can sample for themselves, thanks to a new recording in the making.
What we will hear today, enriching Latvian musical culture with Latvian composers' music from abroad, is largely in merit to composer Andrejs JANSONS—the fruition of his creative life... his experience conducting and composing, and his professional interest specializing in Latvian folk music. Since the founding of the New York Latvian Concert Choir in 1975, he has seen it as a mission and vital goal to popularize major musical works by Latvian composers. Working together with professional symphony orchestras, A. Jansons has conceived and realized a succession of noteworthy concerts, at which have sounded the operas, oratorios, and cantatas of Alfreds Kalnins, Longina Apkalna, Bruno Skulte, as well as works of other Latvian composers, in the U.S., Canada, western Europe, and Latvia. For more than 20 years, The New York Latvian Concert Choir has commissioned specific assignments and premiered the works of Latvian composers. These works have all been performed in concert, and a portion of them have also been recorded on CD and also preserved in the musical archives of Latvian Radio (works by Ilze Akerberga, Imants Mazaraups, Imants Kalnins, Janis Lusens, Alvils Altmanis, Romualds Jermaks, Juris Karlsons, and others). Each recording is a testament to A. Jansons' professional skill and knowledge, his mastery of musical scores, and his fanatical musical fervor. That has been widely acknowledged and recognized, as many prominent Latvian choirs, orchestras, and soloists eagerly take part in A. Jansons' enthusiastic projects.
The great symphonic poem—a mystery with text by Janis Rainis (composed in 1958-1960)—"DAUGAVA"—is fundamentally judged to be one of B. Skulte's cornerstone works; in its time it was one of the composer's most oft-performed compositions. It was a magnificent segue to B. Skulte's earlier works, among whose staves of notes and musical sounds arose "Nerrs", "Balade par kareivi, kas neatgriezas" [Ballad of the Soldier, Who Does not Return], "Atteiksanas" [Refusal], the opera "Vilkacu mantiece" [Heiress of Vilkaci] composed in exile in Germany, the cantatas "Dievs, tava zeme deg!" [Lord, your Land Burns!], "Lugsana" [Prayer] and other compositions. B. Skulte's most glowing sign—patriotism—is plain to see. Therefore it is no surprise, that for his symphonic poem the composer picked Rainis' deeply symbolic memorial song "Daugava" (as edited by Tonija Kalve). B. Skulte interprets Rainis' dramatic poem as a mystical biblical epic, with characters come to life; those intimate with Ranis' work can anticipate the quotations of folk lore by soloists, narrators, and other participants. More than just the inclusion of folkloric intonations, one feels the coloration of the traditional 19th century romantic style, with all the marks belonging to the genre—the lyrical expression of wounded pain typical of the period, its romantic accents, its expression of deep personal feelings. The poem is fashioned along broad threads with a unique intensity of expression and strong dramatic foundations. In essence, it is a Passion of the Latvian people—easily sensed from the music and striking a chord in one's heart. As the tale unfolds, the solo voices manifest themselves as apparitions symbolizing the heroes and forces in Rainis' epic—Spidola, Imants, Lacplesis, and the mothers of darkness, tears and sorrows... "Daugava" received its premier in 1961 under the composer's baton, commemorating B. Skulte's 10th anniversary as a conductor in New York. Encouraged by the New York Latvian Concert Choir and A. Jansons, the composer began orchestrating his composition. Sadly, B, Skulte was unable to complete the work and did not live to see the final fruition of his creation. A. Jansons completed the the composer's barely begun orchestration; the work received its second premier in its final state, on July 5th, 1977 at Lincoln Center in New York. Since then, "Daugava" has been heard often in Latvian centers and has gained a universal following.
The rhapsody on Latvian shepherds' themes, "GANINS BIJU", was composed in 1965 and first performed in New York under the composer's direction, marking the anniversaries of B. Skulte's 60th birthday and 15 years as a conductor in New York. "Ganins Biju" is composed for kokles [Latvian zithers], pipe, soprano, mezzo-soprano, tenor, and mixed choir. The rhapsody has historic musical significance, in that that it is the first work in the symphonic genre making use of zithers. Working together with the first "zither-ers"—Andrejs Jansons, Birute Surmane, Alis Talgergs, and others, B, Skulte fashioned the zither parts within the technical limits of the instruments and times. This composition has been performed often in the U.S, Australia, and Europe. A. Sturms expressed perhaps the most apt appreciation of this work: " A work based on folk-lore foundations, which in its variety of sound, color and timbre forms the sense of a lively mosaic, a unique addition to the music of our people."
The cantata, "BALADE PAR KAREIVI, KAS NEATGRIEZAS" is lesser known among B. Skulte's works. It was composed in Latvia, before his departure into exile. Nor has it been heard in concert in Latvia until now. But musicians, who have developed closer familiarity with B. Skulte's works, can knowingly say that the composer's characteristic musical hand is already evident in this work. Here too breathes nobility and unbridled musical pleasure. It is no exception to his other works, speaking of B. Skulte's mastery of orchestration, meaning it shares the same characteristics of vivid musical imagery and shows the true artist at work. Thematic illustrative elements and dramatic pathos infuse the composition throughout.
---
Program
---
Introduction by Professor Olgerts Gravitis
I
BALADE
for symphonic orchestra
GANINS BIJU
rhapsody on Latvian shepherds' folk songs
for soloists, choir, pipes, and zithers
intermission
II
DAUGAVA
symphonic poem, text by Janis Rainis, edited by Tonija Kalve,
for narrator, soloist, choir, and symphonic orchestra
(instrumentation by A. Jansons)
participating:
Lelda Vikmane - narrator
Dita Kalnina - soprano
Antra Bigace - mezzo-soprano
Veisturs Jansons - tenor
Samsons Izjumovs - baritone
Ints Teterovskis - baritone
Dagmara Tuca - pipe
Silvija Padega Grendze, Edgars Zalite, Laura Padega Zamura - zithers
Riga's Music School No. 4 choir class
Youth choir "Balsis"
New York Latvian Concert Choir
Latvian National Symphony Orchestra
conductor - Andrejs JANSONS
---
NEW YORK LATVIAN CONCERT CHOIR
Andrejs Jansons, Laura Padega Zamura - conductors
Aija Pelse - choir president

Sopranos
Gunta Aldzere
Dzintra Alversone
Silvija Grifina
Ilze Kancana
Skaidrite Klezberga
Astrida Muizniece
Aija Pelse
Dace Straume
Ludmila Stivrina
Laima Veide
Ilze Willems
Maria Zarina

Tenors
Davids Grendze
Indulis Lacis
Juris Padegs
Peteris Vecrumba
Edgars Zalite

Altos
Mirdza Balode
Silvija Padega Grendze
Ruta Lace
Aina Liden
Gita Padega
Barbara Rousa
Linda Stendere
Laura Padega Zamura

Basses
Uldis Blukis
Karlis Dravnieks
Andris Padegs
Roberts Laivins
Valdis Vinkelis
RIGA'S MUSIC SCHOOL No. 4 CHOIR CLASS
Irena Racevska, artistic director
Laura Didze
Liva Didze
Mara Laizane
Laura Medne
Live Medne
Ilze Muceniece

Kate Pavula
Kristine Poisa
Liene Racevska
Zane Zake
Kristine Zalite
YOUTH CHOIR "BALSIS"
Agita Ikauniece, Ints Teterovskis - conductors
Sanda Katkevica - manager
Sopranos
Inese Berzina
Zane Drege
Ilze Landisa
Dace Lace
Agnese Oskerko
Ginta Purmale
Rasma Riktere
Vineta Romane
Vineta Silkane
Ieva Sleze
Gunta Smirnova
Sanda Svetoka
Viktorija Znutina

Basses
Janis Alenciks
Zigmars Brants
Armands Dzilums
Edgards Konuss
Maris Krasnikovs
Oskars Okonovs
Kristaps Sorins
Guntis Vaivodis
Andris Virsis
Ingmars Vigners

Altos
Vija Aizpuriete
Zanda Alksne
Anita Blumfelde
Zane Drege
Ieva Gulbe
Rasma Kamzola
Ilze Kampane
Asne Kavalauska
Jana Klavina
Inga Leitane
Ieva Rasa
Anna Ribena
Magda Rugate
Jelena Sobko
Jana Tomasune
Elina Velina

Tenors
Janis Irbe
Edgards Krasnikovs
Eriks Lebedevs
Maris Luste
Janis Millers
Karlis Rutentals
Ivo Sildegs
MUSICIANS OF THE LATVIAN NATIONAL SYMPHONY ORCHESTRA
1st Violins
Raimonds Ozols
Dzintars Beitans
Nelija Sarkisjana
Irena Landiseva
Dace Upatniece
Maija Stade
Vizma Vilsone
Aija Gailite

2nd Violins
Alise Ozolina
Inga Grase
Baiba Petersone
Daina Birziniece
Malizanda Berga
Ludmila Vinogradova


Violas
Arigo Strals
Inara Brinuma
Anda Daugule
Lauma Visendorfa

Cellos
Diana Ozolina
Lolita Lilje
Skaidris Rusko
Zane Gulane

Basses
Sergejs Brinums
Maris Arents
Raivo Ozols

Harp
Dagnija Eihena

Flutes
Agnese Argale
Aiva Zauberga
Ilze Urbane

Oboes
Dainis Cimermanis
Uldis Urbans

Clarinets
Girts Paze
Alvis Altmanis

Bassoons
Andris Arnicans
Rihards Vilde
Gunars Endzelis

French Horns
Viesturs Vardaunis
Valerijs Bajors
Juris Knabe
Harijs Neibots

Trumpets
Andris Abelite
Janis Klisans
Gints Ozolins

Trombones
Bojeslavs Volaks
Andris Erglis
Arturs Berzins

Tuba
Janis Dimants

Timpani
Edgars Saksons

Percussion
Vigo Racevskis
Valentins Kupciks

Celeste
Janis Zilbers
Our thanks to the following for their support: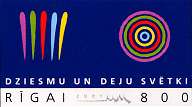 This concert has been organized by the Riga's Latvian Association (RLB) in conjunction with the New York Latvian Choir