Spring Concert—May, 2005
Celebrating the 100th Anniversary of Bruno Skulte's Birth
Our choir continues the choral tradition which Bruno Skulte first established in New York. We could think of no better way to honor his memory and accomplishments than to devote our annual Spring Concert to his music.
We continued another tradition as well, that of the guest conductor. This year, we invited Anda Lipska, an award-winning choir conductor from Rezekne, and choir instructor at its High School of Music.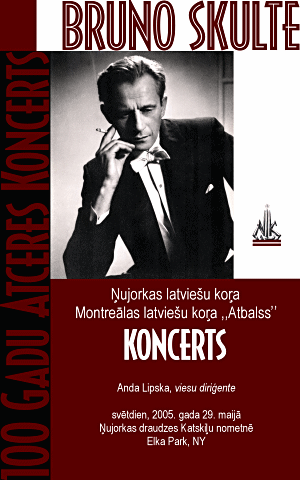 Program Cover
---
The New York Latvian Concert Choir and Montreal Choir "Atbalss"
CONCERT

Celebrating the 100th anniversary of Bruno Skulte's birth
Sunday, May 29, 2005, 4:00pm

At the New York Latvian Ev. Lut. Church's
Catskills Camp
I
About Bruno Skulti
Richards Skulte, speaker
LABAIS GARS (Teodore Ziferts)
SAULES DZIESMA (Karlis Kundzinš)
Indra Ozola, mezzo-soprano, Gints Berzinš, piano
LUGŠANA (Leonids Breikšs)
Womens' choir
AIJA (I. Tomsons)
Mens' choir
VAI TU VARI IZSKAITIT (E. Rumba)
GAISMAS TEVS (Karlis Kundzinš)
DZIEDOT DZIMU, DZIEDOT AUGU (Latvian folk song)
TUMSA NAKA (Latvian folk song)
IECERETA (Karlis Skalbe)
NAKTS (Fricis Barda)
TUMŠA NAKTE, ZALA ZALE (Latvian folk song)
BALINŠ UN MALEJINA (Latvian folk song)
Mixed choir
I n t e r m i s s i o n
II
VASARAS DIENA (Zinaida Zazda)
BAIBAS MONOLOGS (Janis Rainis)
Silvija Augstroze, soprano; Gints Berzinš, piano
KAZU DEJA
Silvija Grendze, Andrejs Jansons, Inara Klaiše, Aivars Staško,
Inga Vitola, Laura Padega Zamura, zithers
LIEN PELITE, PA ZEMITI (Latvian folk song)
Laila Liepina, soprano, womens' choir and zithers
KALABADI GALDINAM (Latvian folk song)
Womens' choir and zithers
DANCIS (Latvian folk song)
SAPNU ZEME (Klara Zale)
Barbara Rouse, mezzo-soprano
DZIESMU VAIROGS kantate (Janis Veselis, Andrejs Eglitis)
Maris Kristapsons, baritone
Gints Berzinš, piano
Mixed choir
Anda Lipska, conductor
---
Our guest conductor Anda Lipska
graduated from the J. Vitols Music Conservatory choir-conducting department
is currently choir intructor and conductor of the instructional choir at the J. Ivanova High School of Music in Rezekne
is conductor of the Rezekne's Regional mixed choir "Trejkola"
is the former conductor of the Latvian State University womens' choir "Minjona"
---
New York Latvian Concert Choir
Aija Pelše, choir president
Uga Grants, pianist
Andrejs Jansons and Laura Padega-Zamura, conductors
Sopranos
Gunta Aldzere
Dzintra Alversone
Sandra Gendrikova-Bayer
Silvija Grendze
Silvija Griffina
Laila Liepina
Tiia McGovern
Aija Pelše
Ludmila Stivrina Yamrone
Krista Zamura
Aradine Zarda
Altos
Maija Andersone
Mirdza Balode
Liene Geide
Zenta Bataraga-Hayes
Annabelle Hamm
Skaidrite Klezberga
Ruta Lace
Mara Marschat
Indra Ozola
Gita Padega
Barbara Rouse
Biruta Surmane
Ilze Valdmane
Laura Padega Zamura
Tenors
Vilnis Geide
Indulis Lacis
Juris Padegs
Richards Skulte
Peters Vecrumba

Basses
Uldis Blukis
Gints Danne
Andrejs Jansons
Marcis Jansons
Magnus Klavinš
Andris Padegs
Mara Vilcina
Valdis Vinkelis
---
Montreal Latvian Choir "ATBALSS''
Andrejs Vītols, conductor
Sopranos
Inta Huna
Rita Jozuus
Anita Lase
Nora Salete
Selga Vitola
Altos
Baiba Audere
Lauma Cenne
Biruta Kalace
Rasma Kiršsteina
Inara Paliepa
Daina Vitola
Tenors
Orests Kreišmanis
Michael Pinsonnault
Mikelis Svilans
Andrejs Vitols

Basses
Roberts Kalninš
Aivars Staško
Janis Verners
---
Graphics, Peters Vecrumba
Support for this concert has been provided by the
New York State Council on the Arts