The Music of Viktors Baštiks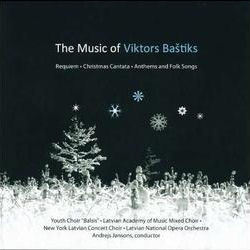 Youth Choir "Balsis"
Latvian Academy of Music Mixed Choir
New York Latvian Concert Choir
Latvian National Opera Chamber Orchestra
&nbsp
Ieva Ezeriete, soprano (2,3,8)
&nbsp
Laila Liepiņa, soprano (5,11,12,15)
&nbsp
Vocal ensemble: (5) Baiba Urka, Krista Audere, Ilona Haniņa, Alise Koknēviča, Laura Padega Zamura
&nbsp
Rūdolfs Bērtiņš, baritone (3)
&nbsp
Ints Teterovskis, baritone (20)
&nbsp
Krišjānis Norvelis, bass (4,6,7)
Andrejs Jansons, conductor
&nbsp
Recorded at the Rīga Recording Studio
&nbsp
February 18-20, 2010
&nbsp
Recording Engineer: Kārlis Pinnis
&nbsp
Program notes: Rūta Paula
&nbsp
English translation: Laima Asja Bērziņa
&nbsp
Graphic design: Dita Pence
&nbsp
Sponsors: New York Latvian Concert Choir, Māra Dole
Order
Please remember our mp3's are downsampled to reduce bandwidth requirements and won't fully reflect the quality of our recordings.

or from our distributor, Albany Records

Also available on iTunes!
Life and Music of Viktors Baštiks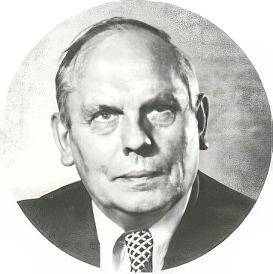 This selection of music by Viktors Baštiks (1912–2001) is drawn mainly from his rich output of sacred works. His almost 300 compositions in this genre form a substantial cornerstone of Latvian sacred music.
Composer Tālivaldis Ķeniņš once exclaimed, "Latvian church music without Baštiks is inconceivable. There, stands the champion of Latvian sacred music!" And composer and conductor Arvīds Purvs concurred and added, "In our homeland, when composers had their hands tied as regards creating sacred music, Baštiks was able to fill this vacuum created by Latvia's Soviet oppressors."
Viktors Baštiks was born 3 February 1912 on a farm in Skatre in the District of Liepāja, Latvia. His father Jānis conducted the local Baptist church choir, his mother Otīlija was one of the choristers and later became known for her poetry and sacred song translations, published under the pseudonym Liesma. Thus their son Viktors received his first musical impressions participating in the musical life of St. Paul's Baptist Church. He obtained his first professional training at the Liepāja Music School and went on to study composition with Jāzeps Vītols at the Latvian State Conservatory in Rīga, also receiving training in piano, orchestration, history of music and other disciplines. His education here fostered his contribution to Latvian music not only as a composer, but also as a conductor and a purveyor, compiling numerous collections of sacred songs. While still studying at the Conservatory, he conducted Baptist church choirs in Jelgava and Riga, and was one of the leading conductors at the Baptist Song Festival held while Latvia was under German occupation during the Second World War. Although sustaining a hand injury as a soldier during the war, he was nevertheless able to continue playing and conducting as a refugee and émigré after the war. In Germany he was conductor of the Latvian choir at the refugee camp in Ingolstadt and participated with his choir in the Latvian Song Festival in Esslingen in 1947. In England he joined the Zuika Male Choir, first as a chorister and later as the choir's conductor, participating in the organization of the first two Latvian Song Festivals in Great Britain and also leading the Corby Choral Society for a few years. In 1952 Baštiks traveled to the New World and settled in Philadelphia, USA, living and working there for the rest of his life. His activities blossomed particularly in the realm of sacred music: he was president of the American Latvian Baptist Choir Association and the driving force behind the annual song festivals organized by the Association, participating 40 times as a conductor. Most importantly, for 36 years he conducted the Latvian Baptist Church Choir in Philadelphia. Under his direction the choir sang at church services, sacred music concerts and various other events, and became the main laboratory for his creative work. He died in Philadelphia 30 October 2001.
Tālivaldis Ķeniņš once said, "Baštiks' musical tool is really the choir." We can continue in the words of composer and conductor Alberts Jērums, "He doesn't write music for a choir of the future, music selected to please the public, music whose performance possibilities are hard to foresee. His requirements are neither modest, nor restricted; he prefers to remain faithful to his ideal, that of classical harmony..." This view is affirmed by Baštiks' own rhetorical question, "What's the use of writing works that are not performed and understood?" Indeed, he has never created works for an abstract, unknown purpose — music for music's sake; he has always written for a concrete addressee — his own Latvian Baptist Church Choir in Philadelphia, the New York Latvian Concert Choir, the Choir of St. Andrew's Latvian Evangelical Lutheran Church in Toronto or the combined song festival choirs. Moreover, the composer has always taken into consideration the realities of performance possibilities: most of his songs are written for a cappella choir, his cantatas with organ and minimal instrumental accompaniment. He has always both respected the capabilities of ordinary church or amateur choirs and also taken into account the strengths of professionally more proficient performers.
The musical language of Viktors Baštiks is clear and tightly knit, concentrated in form and expression, whether it be a simple folk song setting or the extended forms of his many cantatas, his Requiem and the oratorio Jēzus Nācarietis [Jesus of Nazareth]. His music is not experimental, he adheres strictly to the traditions of Vītols, yet retains his own individual style. His writing is without superficial effects but with reason and emotion in balanced proportions: the sorrowful never becomes too maudlin, nor the passionate — oversentimental. It is heartfelt music, natural and unaffected, with a strong spiritual aura, music in which a flowing melodic line always has a dominant role.
Conductor's Corner
I was around thirteen and living in Norfolk, Virginia, when I began to show a serious interest in music. At that time my image of a composer was of a sort of superhuman being, certainly not of this world and still living. So I was amazed when my father told me he knew a real, living composer — Viktors Baštiks. I immediately bombarded him with questions: How and where did you meet him? Will you introduce me? Some time later my parents attended a Baptist church congress in Bucks County, Pennsylvania, and took me with them. Viktors Baštiks was expected to be there too — the long-awaited moment was at hand. Great was my amazement when I met the composer: he turned out to be quite an ordinary looking person, moreover a friendly one! He told me to call him Viktors. He talked to me, asked me what instrument I played and what my plans for the future were. To my great astonishment, he sat down at a table and, without the use of a piano, quickly harmonized my favorite folk song, the soldiers' song Ai, bāliņi, ai, bāliņi.
We met now and again after that. He was always in a good mood and invariably told me something interesting about music. We became good friends. When I began studying music at the Juilliard School of Music in New York several years later, we were able to meet more often because he lived relatively close, in Philadelphia. He invited me to play the oboe at church services, in which his choir took part, playing the accompaniment himself on the organ or piano. He wrote several works for the oboe at the time: Svētceļnieku dziesma [Pilgrims' Song], Karā kautas dvēselītes [Souls of Those Killed in the War], Kam tie kalni [Whose are the Hills?], Variācijas par korāļa tēmu [Variations on a Chorale Theme]. When the New York Latvian Concert Choir was formed, Viktors Baštiks wrote an arrangement of the folk song Ai, zaļā līdaciņa [0 Little Green Pike!] and dedicated it to the choir; we sang it at the choir's first concert in the composer's presence. Later, at our request, he orchestrated his cantata Ziemassvētkos [Christmas Cantata] and Rekviems [Requiem] for choir and chamber orchestra, and it was our great joy and honor to present the first performances of these new versions.
Even though his compositional output is impressive, Viktors Baštiks is one of our most ignored composers — his music has not been presented in a major concert in Latvia or elsewhere since the renewal of Latvia's independence in 1991.
The New York Latvian Concert Choir has recorded this album in honor of the composer's valued work and his rich creative output. We dedicate it to the memory of our long-time chorister Juris Padegs.
—Andrejs Jansons
Dedication
Juris Padegs (b. Rīga 23 November 1931, d. New York 23 December 2009) was an accomplished attorney who contributed a good deal of his energy, expertise and time to defend and provide financial support for Latvia and its interests, work that was acknowledged when he was awarded Latvia's prestigious Order of the Three Stars in 2009. He was one of the founders of the New York Latvian Concert Choir who initiated and enthusiastically supported many of its projects. He was truly the heart and soul of the choir. Padegs' generous and welcoming character helped develop the choir into one with members of three generations. Thanks to his efforts, it was possible to perform the opera Baņuta by Alfrēds Kalniņš in New York's Carnegie Hall in 1982. Juris Padegs actively supported the performance of Baštiks' music in Latvia: the composer's Requiem, sung at the memorial concert in February 2010 in Rīga and also included on this CD, was one of his favorite works. This album has been dedicated to the memory of this truly unique person.