Rihards Dubra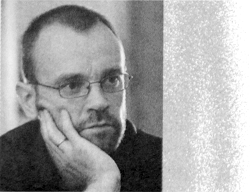 Rihards Dubra
Rihards Dubra (b. 1964) studied composition with Jāzeps Lipšāns, Ģederts Ramans, Adolfs Skulte and Juris Karlsons, with whom he completed his Master's degree. While still a student he began teaching at the Jūrmala College of Music. Dubra's other sphere of activity is connected with organ and liturgical music. He is cantor at St. Mary Magdalene's Roman Catholic Church in Rīga and one of the choristers of the vocal group Schola Cantorum Riga. Almost all of his compositions belong to the field of sacred music; both his vocal music (motets, cantatas) and also his instrumental works are religious in content. His choral and vocal-instrumental music is performed at international festivals. He received Latvia's Music Grand Prix 2003 for his composition Te Deum. Dubra is a romantic at heart; his melodies are written in clear lines with traces of Gregorian, minimalist and Renaissance elements. His music is predominantly meditative, expressing aspiring thoughts and an awareness of the divine.
Rihards Dubra: The cantata In nativitate Domini was written in the year 2000 for the New York Latvian Concert Choir, with tenor solo and chamber orchestra in response to a request by Andrejs Jansons. I used texts from the Christmas Proprium, which contains passages from the Bible — first excerpts from the Old Testament: prophecies about the Light that will shine upon us, about the daughter of Zion, who rejoices because her King has come. Events documented in the Gospel describing the birth of Christ, shepherds that watch their flocks by night, their fear when they see the angel with his news and the multitude of heavenly hosts. The central point of the cantata is the slow passage with the text "And the Word was made flesh, and dwelt among us". All these wondrous words were a fantastic source of inspiration.
At first there was a wish that I write the text in Latvian. However, I had decided to use stylized Gregorian elements in this work and it turned out that the music was completely incompatible with the Latvian text, that it sounded much more natural sung in the original language. As a result the cantata was performed in Latin.