Uģis Prauliņš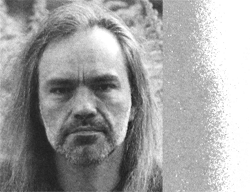 Uģis Prauliņš
Uģis Prauliņš (b. 1957), composer, pianist, recording engineer and producer, gained his compositional skills at the Latvian Academy of Music under the direction of Jānis Ivanovs and Ģederts Ramans. Apart from his creative work in the field of conventional music, Prauliņš works in various genres, combining acoustic and electronic music, as well as rock music. He has always had an interest in Latvian folk music. In the 1980s his rock group Vecās mājas [Old Home] played music that had a distinctively Latvian, ritualistic sound. The resources of the synthesizer enrich his Pagānu gadagrāmata [The Pagans' Yearbook], and his monumental folkloric oratorio Krusta dancis [Cross Dance] is enhanced by contemporary sound techniques. His works successfully combine pagan and Christian traditions. He has been Chairman of the Latvian Composers' Union since 2004.
Uģis Prauliņš: European music in the New World of America; Christian Christmas traditions in the present-day context; unforgivable blues themes, sequencing, lively rhythms and folklore as the converse of Christianity; Latvian deities Dievs [God], Laima, Mara — spiritual values existing before Christ. Secular passions during Christian celebrations of Christmas. Christmas for children that are not so well behaved — that is my Christmas in the New World.
I have never liked quiet Christmas songs with their standard texts and melodies, even during the Soviet era when they were forbidden. So I always try to disturb the hush with my doubts and impudence so that people are not so stiff and feel real joy for the Christ Child! Each age has its own Christmas. This is Christmas for the present day when so much that is contradictory comes together and creates something new. In ancient times God helped us survive the bitter winters, the devastation of war and our dependence on the harvest and the weather. Then in the dark evenings we traveled as mummers from homestead to homestead, anticipating the joys of spring and sunshine, having fun performing, improvising and meeting friends and neighbors. Ancient Christmas traditions and today's consumer goods, Christmas sales and Santa Claus... Often this is a confused and chaotic time when we ask ourselves: how should we celebrate Christmas? With loud or soft music, with eating, drinking and ancient traditions? By seeking refuge in quiet churches or with shopping and secular activities in Riga? No matter how we celebrate, let everyone experience Christmas as a time for forgiving, for faith, unsuppressed joy and quiet contemplation. As a celebration of the solstice.