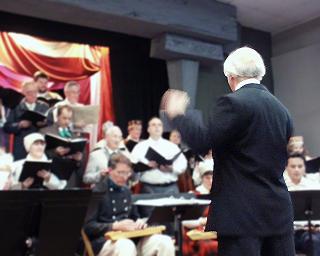 Andrejs Jansons conducting our choir in performance
Latvians love their music!
Just before our 2001 spring concert in the Catskills, we had a chance to sit down with Andrejs and chat about the choir, reflecting on more than a quarter century of activities and accomplishments.
Some excerpts from our conversation:
---
Q: This year marks the 800th anniversary of the founding of Riga. It also reminds us that Latvia spent most of the last eight centuries under varying degrees of foreign domination. Yet, Latvian culture survived and flourished. What do you find compelling in Latvia's cultural and musical heritage, and how has it influenced your own musical development and outlook?
Andrejs: It often seems the case that when a culture is being repressed or subjugated, it manages to flourish almost as if in response—it's no less so for Latvian culture. It was under German and Russian domination, particularly cultural repression in the 19th century, that nationalism awoke and folk songs reached a very high degree of development. Similarly, in the 20th century, with emigration and exile to the West during WWII, we had a mission—or we took it to be so—to preserve Latvian culture, which was not really allowed in Latvia under the Soviet occupation. We sang songs, recited poetry, and generally performed works banned in Latvia; moreover, many new literary works and musical compositions were created with the specific goal to preserve and strengthen Latvian culture.
As for being influenced—as far back as I can remember—I have always had a very deep interest in Latvian music, which likely came from my parents. But however it came about, I have always had this interest, and one of my goals since becoming a musician has been not only to perform Latvian music, but to seek a professional interpretation, holding to the highest standard—rather than just singing in an amateurish way.
I think this practice has opened up various avenues in Latvia, where Latvian musical forces have been of a very high caliber, and it has helped the New York choir and myself to fit in to the cultural life of Latvia even before independence—and especially after independence. We have constant contacts with musicians there who come to visit us and work with us; we, of course, go there and participate in joint projects with Latvian soloists, choirs, and orchestras. This working relationship continues and grows —one concrete result is the compact discs which we have recorded.
Q: Continuing with the theme of anniversaries, last year marked the choir's 25th. What were some of your original goals for the choir? How has the choir met or surpassed them?
Andrejs: As far as original goals, we founded the choir to perform, and promote the performance of, Latvian music outside of Latvia. Our main focus was simply Latvian music, since there was no Latvian choir in New York in 1975. But quickly, from the very beginning, just in our second season, when we performed Bruno Skulte's "Daugava" at Lincoln Center with the New York City Opera orchestra, we also developed the mission to perform large scale works by Latvian composers—not just the typical small songs and miniatures which most other Latvian choirs in the West focused on. Today we continue to constantly work at finding funding and hiring professional orchestras to give concerts of Latvian opera, oratorios, and cantatas in major halls here and abroad.
Q: Soon, Latvia will observe its first decade of independence from Soviet occupation. The choir has closed its chapter on preserving Latvian musical heritage in exile. With that mission complete, has Latvian independence made it easier, or more difficult, for you and the choir to achieve and maintain a high level of energy and focus?
Andrejs: I don't know that a chapter has been closed for us—if anything, new chapters have been opened up for us. I know that a number of Latvians, mostly, but not all, of our parents' generation, sort of "lost their bite" when independence came. Now that Latvia is free again — anything can be performed there: theater, poetry, music, drama—they lost their sense of mission: to fight Communism and to preserve the culture that existed before the Second World War. And this resulted, very shortly after independence, in a very marked reduction of Latvian culture abroad—many choirs, folk dance groups, and particularly theater groups, went out of existence. To a large part it was independence itself that took away the foundation on which these organizations were built and prospered for 40 years.
Since our choir is mostly interested in promoting and producing significant artistic musical works, rather than just performing the patriotic ones, independence didn't affect us, I think, as much as other organizations.
As far as maintaining a high level of energy and focus, I think that in our case, independence has, if anything, raised our standards. Now that we work together with professional and amateur groups in Latvia, we feel we have to keep up with choir standards in Latvia—which are truly on a world-class level. We have something to look forward to and compare ourselves to—I think we have improved our level of performance since independence.
Q: So, how would you say Latvian independence affected the choir's mission? And has that mission gained, or lost, clarity?
Andrejs: I don't think the choir's mission has changed much since independence. Independence has made it much easier to establish an exchange program. As I mentioned, we constantly invite soloists, guest conductors, and guest choirs from Latvia; and the Latvian people and groups, in turn, invite us. We have developed a very cordial relationship with a number of organizations, such as the National Opera, which supplies us with soloists and an orchestra when we need them, the "Ave Sol" choir, the "Sonore" choir, the "Balsis" choir, the "Juventus" choir, and others. If anything, our founding goal of performing original, quality Latvian works has been re-invigorated.
My personal goals have been affected more, in the sense that I have been going over to Latvia several times a year to do guest performances with the opera, the National Symphony, the Liepaja Symphony as well as some of the theaters—this has been much easier to do now that we don't have to worry about the Soviet censors and the political aspects of what may or may not be performed.
---
You can find Andrejs' biography on the Music in Latvia site. The site is hosted and maintained by the Latvian Academy of Music. We've also translated Andrejs' CV from that site—see the biography link (English) below.